As retail collides with adjacent consumer-focused sectors, the industry continues to undergo constant disruption, However, one thing remains consistent: consumers are becoming more powerful, with expectations of having it all, all purchase decisions come down to two factors; convenience and connection. Consumers shopping online expect convenience that goes beyond the in-store experience, and one of the few drivers of loyalty in a purchase decision is a connection with the brand. It's no longer about just creating a seamless online-to-in-store experience. Instead, it's using online and in-store platforms to facilitate a deeper connection that feels worth having.
The Key Findings of "The Future of Retail, 2019" Report:
46% of surveyed consumers in the USA reported that they are more open to purchasing a big-ticket item like a car or a grill online than they were a year ago.
24% of surveyed USA consumers mentioned that they are more willing to try new products recommended by Amazon than a brand or retailer.
38% of surveyed USA consumers have ordered online to pick up in store.
30% of consumers indicated that they are satisfied with Amazon's delivery speed.
25% of surveyed USA consumers said that they feel more connected with brands when they go to a store.
Free shipping is ranked as the top online purchasing driver by surveyed USA consumers with a rate of 77%.
Books are ranked as the top rental category for consumers with ages from 26 to 35 in the past year with a rate of 28%.
The ability to see and feel the fresh produce before buying is the main driver for the USA consumer towards in-store grocery shopping with a rate of 64%.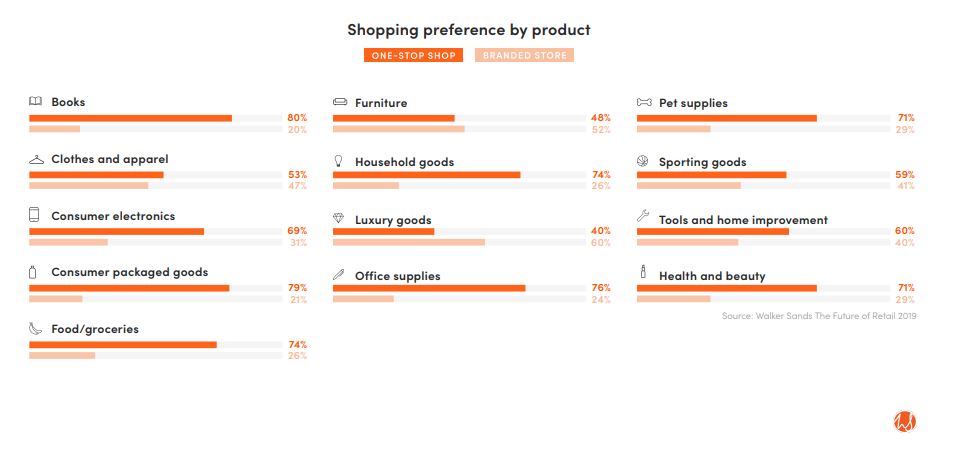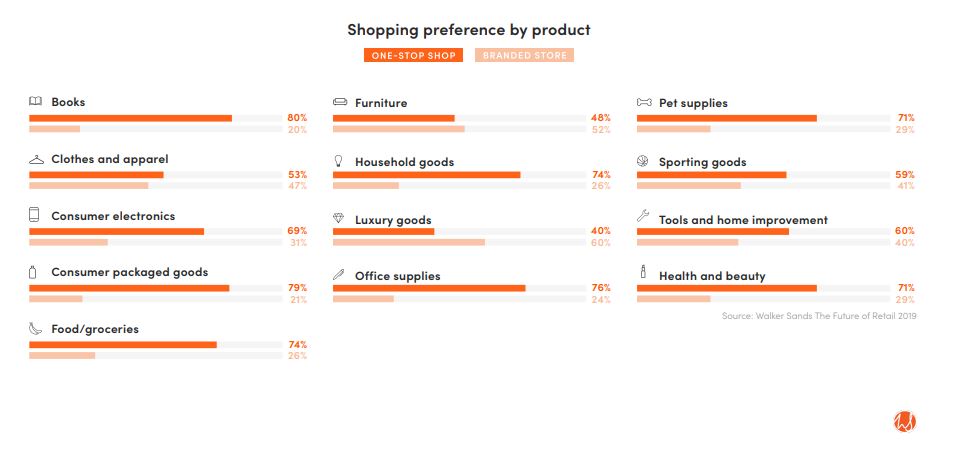 A Figure Shows The Shopping Preference by Product Categories of The USA Consumers, 2019.
The Content of "The Future of Retail Report, 2019" Report:
Key Findings.
Shopping Decisions Driven by Tech-Infused Lifestyle.
The Increasing Role of Sustainability in Retail.
Big-Ticket E-Commerce on the Rise.
Free and Fast Shipping Still Fuels Online Purchase Decisions.
Online Convenience Meets In-Store Opportunity.
An Eye on the Future With a Mind in the Past: Today's Grocery Preferences.
Using Convenience and Connection to Drive Commerce Forward.
Key Predictions for the Future of Retail.
Number of Pages:
Pricing:
Methodology:
Data were driven by Walker Sands they surveyed 1,600 consumers across the United States on their shopping habits, preferences and views on emerging retail technology. The survey was conducted online in March 2019 and has a 2% margin of error at a 95% confidence level.