Google is more than just a search engine, it offers a ton of tools in addition to its search engine that can be hugely valuable for marketers. In the Q2 of 2017, Google search spending increased by 23% year-over-year and Facebook budgets continued to grow much more rapidly than the online ads industry as a whole.
Be aware of the recent insights into digital marketing and read the below:
Paid Search
Search spending in the US across Google AdWords, Bing Ads, & Yahoo Gemini ad platforms increased 20% in Q2 2017, up from 15% growth in Q1.
Cost Per Click (CPC) also increased 1% in Q2 to reach 18% after 14 in Q1.
Google search ads spending on the desktop rose from 20% in Q1 to 22% Y/Y in Q2 2017.
Brand CPCs declined to 8% Y/Y for the full quarter, while clicks rose 9% and ad spend didn't see any increase or decrease.
Organic search & social
Google organic search visits increased by 5%, Yahoo organic search visits and Bing visits fell 7% in Q2 2017.
Google's share of visits produced by mobile organic search jumped from 91% in 2016 to 93% in Q2 2017.
The share of visits produced by social media dropped from 3.3% in Q1 2017 to 3% in Q2 2017.
Mobile devices, including both phones and tablets, produced 69% of site visits from social media in Q2 2017, up from 67% in Q1.
Display & Paid Search
Brand advertising on Facebook increased investment by 56%.
Facebook click traffic increased at a rate of 39%.
Most of all Google display network (43%) spend came from phones in Q2, while 12% came from tablets.
Phones and tablets hold the vast majority of Facebook ad spend in Q2, and mobile spend share rose from 76% in Q1 to 82% in Q2.
Shopping Engines & Feeds
In terms of comparing the prices for products at various online stores – Comparison Search engine – (CSE), eBay commerce network is the dominant CSE spending share with a rate of 35% in Q2.
Advertisers spent 43% more on Amazon sponsored products.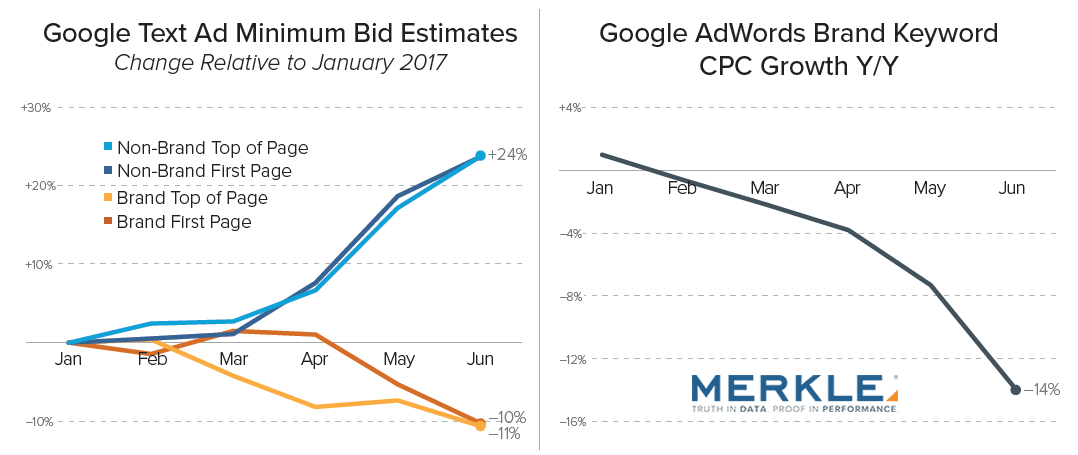 Methodology:
Data were driven from samples of Merkle clients from the North American market region, who have worked with Merkle for each marketing channel.