Are you searching for the global Digital Statistics?
DIGITAL IN 2016 report is a comprehensive study of digital, social and mobile usage around the world by We Are Social.
DIGITAL IN 2016 report contains all the digital data, social stats and mobile numbers you need to understand the global state of digital marketing.
Some of the key indicators for Global Digital Statistics in 2016:
3.42 billion internet users, equaling 46% global penetration
2.31 billion social media users, delivering 31% global penetration
3.79 billion unique mobile users, representing 51% global penetration
1.97 billion mobile social media users, equating to 27% global penetration
The growth since the 2015 global report:
The number of reported internet users is up by 10%, growing by 332 million
The number of reported social media is up by 10%, an increase of 219 million
Unique mobile users increased by 4% thanks to 141 million new users
Mobile social media users leaped 17%, adding 283 million new users.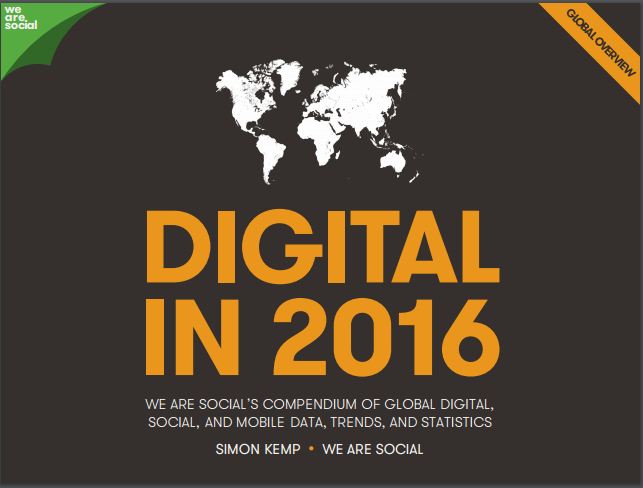 The report contains regional and global overviews, together with in-depth profiles of 30 of the world's top economies.