Three days ago, Instagram announced that they are rolling out a new feature, which adds some more fun to your daily Instagram stories. A new music sticker, which enables Instagrammers to add a soundtrack to their stories and choose the song which fits their story vibe.
This feature is currently available in 6 countries: Australia, New Zealand, France, Germany, Sweden, the UK and the US. Now, users will be able to choose tracks from various artists including Bruno Mars, Dua Lipa, Calvin Harris and Guns N' Roses.
"Today, we're introducing music in Instagram Stories. Now you can add a soundtrack to your story that fits any moment and helps you express how you're feeling. Instagram Stories is now used by 400 million every day, and we're excited to give our community new ways to feel closer to their friends and followers."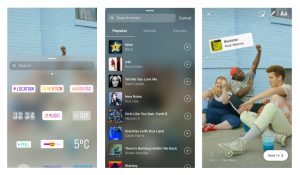 How to add the new music sticker on Instagram?
When Instagrammers tap to add a sticker o a photo or video in Stories, they'll see a music icon.
Tap on it to open a library of thousands of songs.
They can search for a specific song, browse by mood, genre or what's popular, and tap the play button to hear a preview.
When a song is selected, they can fast-forward and rewind through the track to choose the exact part that fits their
They can also choose a song before capturing a video.
Open the camera, swipe to the new "Music" option under the record button.
Search for a song, select the exact part, and record a video as the song plays in the background.
When users' friends are watching their story, they'll hear the song playing.
They'll also see a sticker showing the song title and artist name.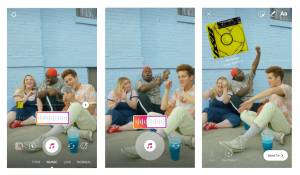 Instagram points out that the new music feature is now available as part of Instagram version 51 in the 6- selected countries and the ability to choose a song before capturing video is available only on iOS, not Android.
To put things into prespective as to where Instagram at on a competition level, It should be noted that Instagram Stories has 400 million daily users, up from 300 million in November and 250 million a year ago. That means Instagram Stories is growing about six times faster than Snapchat's entire user base, which only increased 13 million daily users over the six months of Q4 2017 and Q1 2018 to reach 191 million.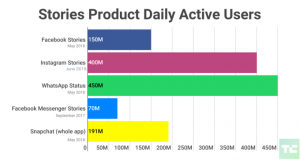 Finally, we can say that the new feature means Instagram is now competing with tween favorite Musical.ly, and the direct competitor Snapchat, as it could make Instagram Stories more fun to post and watch in a way that copyrights won't allow on Snapchat.