Instagram announces on its official blog that introducing some new features on its platform for all the Instagrammers worldwide. One month ago, Instagram said that it's hard working to leapfrog all of the social media Apps with launching its new features like Voice & Video Chat, IGTV, Stories Sharing, New Explore, new camera effects and more.
"Last month, we announced that new updates were coming to Instagram to bring you even closer to the people and things you love."
Topic Channels on Explore 
Instagram is rolling out another new feature on its updates' list, "Topic Channels on Explore" is a new update which enables the Instagrammers to discover their interests in many ways on Instagram. Topic Channels on Explore also is an important update for the marketers, as it's considered to be something that need to take note of.
"Over 200 million people visit Explore every day to discover new ideas and find inspiration. Now it's even easier to browse through posts you want to see and accounts you want to follow."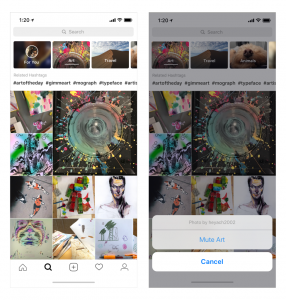 As explained by Instagram, follow the below tips to get access to the New Explore effectively:
When you open the Explore page, you'll see a tray at the top with personalized channels.
This includes a 'For You' channel, which has a mix of posts tailored to your interests.
You'll also see channels on topics you might like such as Art, Sports, Beauty or Fashion – as well as a list of hashtags, giving you more ways to explore your interests.
When you want to get inspired by the latest fashion trends or discover a new travel destination, you can easily find posts you're looking for and follow those accounts or hashtags.
You have also better ways to control what you see on Explore.
You can browse through a variety of interests by swiping from grid to grid.
You can go deep into a specific interest by tapping on a channel and scrolling up.
If you'd like to remove a topic channel, press and hold the channel and select 'Mute' from the menu.
This choice sends the channel to the end of the tray, giving you the option to unmute it at any time.
This is all about Topic Channels on Explore.
With this new update, Instagram will be able to curate more content and organize it by specific interest areas to give the users a chance to go deeper into specific topics. It's a great opportunity for influencers and brands to have their content be watched more for users who really want to see it.
New Camera Effects 
Finally, Instagram is launched new AR Camera Effects, which focus especially on the users' needs and to make the app more enjoyable, funny, and excited.
This batch of new camera effects designed by Ariana Grande, Buzzfeed, Liza Koshy, Baby Ariel and NBA in the Instagram camera.
"Whether you want to make your friends laugh or add some glam to your selfies, you now have more ways to express yourself and feel closer to your favorite accounts."
How can get access to the new effects?
Open the Instagram front camera, then tap the face icon at the bottom right corner.
You'll see a new effect in your Instagram camera if you follow any of these accounts, (Ariana Grande, Buzzfeed, Liza Koshy, Baby Ariel and NBA).
If you aren't a follower but you see an effect that you love, you can tap to try it on and add it to your camera.
Instagram refers to these new AR camera effects are just a beginning and they are going to add more funny, enjoyable, and excited effect on its platform.
Video Chat in Instagram Direct
The Instagram's new feature, "Video Chat" is considered to be one of the most important and brilliant updates of Instagram, lately. Now, Instagrammers can video chat in Instagram Direct, either with just one person or a group.
Learn more about Instagram Video & Voice Chat here
By adding these features, the most popular Snapchat features are now successfully cloned on Instagram. Read more about the latest Instagram's updates here