Instagram has announced yesterday on its official blog the launching of "@Mention sharing",  a new feature that enables Instagrammers re-sharing stories. According to Instagram's announcement, users will be able to reshare any photo or video in which they've been tagged and share it into their own story.
"Starting today, when someone mentions you in their story, you'll be able to share that photo or video into your own story. So, when you're caught up in a soccer game or focused on a big project and you don't take out your phone, you can still share the moment", Instagram said.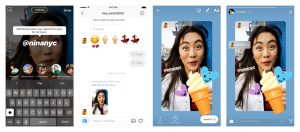 When someone mentions you in their story, a notification will be received in your direct messages thread — now, you'll see an option to add that content to your own story. When you tape it, you will see the story as a sticker. You can scale, rotate and position it and can even add creative tools like text or stickers on to it as well. When your followers see your story, the original poster's username will appear and will be tappable, so people can explore your friend's profile as well. Only public accounts can have their stories shared.
Really, it's not a heap different from their recently announced – on the last April – an update which enables users to reshare any Instagram post to their own story. However, we thought that @Mention Sharing is aiming more to direct interaction and engagement between friends.
Finally, brands now can easily reshare their customer's stories, run UGC Instagram contests, attract more influencers to share your stories