If you are interested in meeting the greatest region's pioneers, thought leaders, and innovators in the Middle East, you must attend Digitalks 2108 conference on the 24th of January in Dubai.
Digitalks 2018 conference in Dubai is The Middle East's first digitally-focused conference series. It considered as the first conference of its kind in the middle east.
It will take place on January 24th, 2018 at Novotel WTC, Dubai, UAE, and there will be a number of great experts attending the conference.
Digitalks 2018 Speakers:
Sofiane Haddadi, Head of Media at L'OREAL
Amol Kadam, Co-founder at RBBi
Nabil Dabbagh, Global Head of Customer Success at DeepCrawl
Heba AlSamt, Digital Media Director of TV & Radio at DMI (Dubai Media Inc)
Murad Daniel, Business Development Manager at Sitecore
Jonathan Beacher, Data & Analytics at Alteryx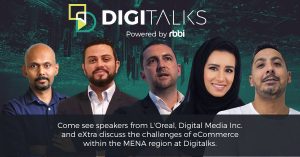 Main achievements of attending the Digitalks 2018:
Meeting experts and thought-leaders alike and take advantage of networking and mingling with professionals from a variety of verticals.
You can sponsor the event if you interested in.
Improving your digital marketing skills by exchanging experiences with the experts.
Main sponsors of Digitalks 2018:
For more information and details about Digitalks 2018, you can visit the conference website.