DigiMarCon South 2018 is considered to be the premier digital marketing conference in the south!
The conference will introduce a great package of the most speakers and the latest researches in the digital marketing industry.
DigiMarCon South 2018 is a 2-day conference, takes place on 6 & 7 June 2018 at JW Marriot Houston, USA.
Some of DigitMarCon South 2018 speakers: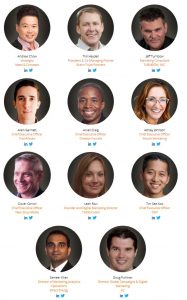 Who should attend DigiMarCon south 2018?
Innovators, senior marketers.
Branders, entrepreneurs, digital executives.
Professionals, web & mobile strategists, designers.
Web project managers, business leaders, business developers.
Agency executives and their teams.
Why should you attend?
Hear from the most audacious and provocative speakers in the digital marketing industry.
Gain insight into emerging strategies, the latest innovative technologies, and best practices.
Network with thought leaders, build your network and collaborate with your peers.
It's the one digital marketing event you can't afford to miss! Whether your goal is to reinforce customer loyalty, improve lead generation, increase sales, or drive stronger consumer engagement.
DigiMarCon South 2018 main topics:
Digital Strategy
Web Experience Management
Usability and Design
Mobile Marketing
Customer Engagement
User Acquisition
Targeting and Positioning
Social Media Marketing
Video Marketing
Big Data and Data Science
Web Analytics and A/B Testing
Content Marketing
Growth Hacking
Conversion Rate Optimization
Marketing and Sales Automation
Follow up the DigiMarCon South 2018 updates here.