With more than 5 decades of history in the Middle East, Clean & Clear is the only skincare brand aimed at the teenage market. Owned by Johnson & Johnson. The brand has a 100% digital strategy that caters female consumers between the ages of 13–22. As part of this, Clean & Clear has partnered with Sony Music Middle East, which works with the region's leading artists including boy band "The 5" and girl group "Carizma". As a result, engaging the interest of their targeted customers and creating a mutual bond.
In this article, we go in depth on how the skincare brand boosted sales of its popular cleanser. Boosted sales In the United Arab Emirates by 23%. And took on the strategy of utilizing the reach of social media influencers.
Johnson & Johnson sought the efforts of media and content agency J3 MENA. Aiming to optimise the ad content to work across different Facebook ad formats, including video, carousel and Instant Experience.
PROBLEM
Looking for a fresh start, as Just 18% of Clean & Clear's target consumers use liquid cleansers. Johnson & Johnson hoped to recruit girls who still use bar soap by raising brand awareness amongst them and their mothers.
https://www.facebook.com/cleanandcleararabia/posts/1677932268913365
SOLUTION
Johnson & Johnson collaborated with J3 MENA to present ads in a clever way, employing these strategies:
The ads were given a fun and youthful tone, using an emoji-rich visual language that resonated with the teenage girl audience.

Clean & Clear's partnership with Sony Music Entertainment also gave it access to their extensive influencer network.

The ads featured a mix of product assets, as well as assets showing influencers using the products.

The creative included GIFs, videos and cinemagraphs, which were all developed with Facebook's best practices in mind.

The campaign was targeted to females aged 13–40 living in Sharjah.
To refine its understanding of Facebook ads and their impact on sales, Johnson & Johnson partnered with Nielsen to conduct a matched panel analysis between a control group who did not see the ads (Abu Dhabi) and a group that did (Sharjah). Polls were then served to each group, and the results allowed Johnson & Johnson to analyse key brand metrics, including ad recall.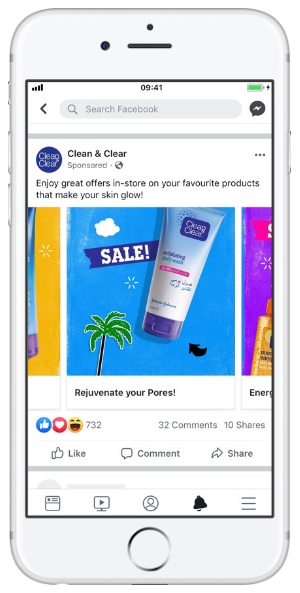 RESULT
Johnson & Johnson's clever Facebook campaign helped it gain new customers and significantly up their sales. Running from November 16–December 27, in the year 2017, the campaign resulted in: