Social Media Marketing is now the new normal of marketing, there are dozens of studies worldwide that proves its imperative for the business of all sizes.
Firms in Egypt are also striving to achieve the benefits of social media marketing. 73% of them had been using social media marketing for more than one year, and about 70% of them are having dedicated staff for this purpose.
The results revealed that that social media marketing helped the firms to create and strengthen brand awareness and so this leads to increasing sales performance of firms. Finally, we can find that social media has a very positive relation with firms' sales, high-profit margin products' sales and sales of new products.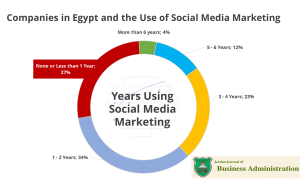 For more information please download the "Usage and Effectiveness of Social Media Marketing in Egypt, Q3 2016" full report.