MICT report mentioned that Egypt is the second largest country in the world with 18 maritime cables crossing 160 thousand kilometers. Furthermore, ADSL Internet services provided by ISPs in Egypt vary in speeds reaching 24MB.
The report shows that the number of internet users increased exponentially during a five-year period to reach 22 million users in 2013 compared to 12.3 million users in 2009, and the number of both USB modem subscriptions and mobile internet subscriptions increased enormously during the same period, where the former reached 3.9 million subscriptions in 2013 and the latter reached 14.5 million subscriptions for the same year. Also, internet users accessing through the mobile handset are increasing over time to constitute 37.42% of the total internet users by 2013.
About the internet users' demographics, the report shows that 38% of internet users aged between 38 to 44 and 56.6% of internet users are male.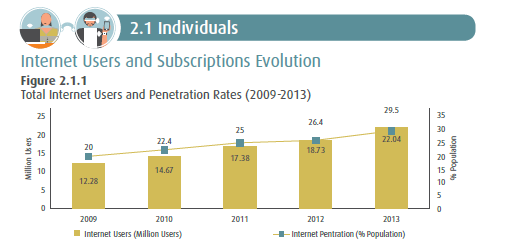 For more information, please download "Measuring the Digital Society in Egypt: Internet at a Glance 2015" full report.