Search Marketing Summit 2018 is considered to be Australia's #1 Search Marketing Event.
If you want to learn from leading international and local experts to improve your search marketing skills, you must be a part of this event.
Search Marketing Summit 2018 will take place in SMC Conference & Function Centre, Sydney, Australia for 5 days from 28 May to 1 June 2018.
Some of the Summit Speakers:
Cinday Krum – CEO and Founder at MobileMoxie
Amy Saunders – Co-founder and Director at Amire Strategic Digital Marketing
Duane Brown – Founder and Head of Strategy at Take Some Risk
Lucio Ribeiro – Managing Director at Online Circle Digital
Angeline Michelutti – Business Development Lead at Microsoft
Benefits of attending the Search Marketing Summit 2018: 
Meeting some of the leading experts in the digital marketing industry around the world.
Improving and optimizing the organic search ranking and paid search advertising.
More than 40 sessions and keynotes that suit your needs and maximize your investment.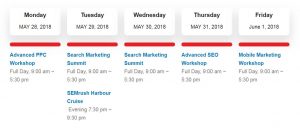 Who Should Attend the Search Marketing Summit 2018?
Search Engine Optimisation Experts
PPC Experts
Marketing Managers
Agency Based Search Engine Marketers
In-house Search Marketers
Brand Managers
Online Media Planners
Paid Search Advertising Planners & Buyers
Paid Search Advertising Planners & Buyers
Paid Search Advertising Planners & Buyers
Webmasters
Web Designers
For more information and details, visit the conference website